Automation, Controls and Technology News
• modbus
Modbus Protocol Explained The Modbus protocol works on a master/slave communication template (also often called the client/server model in modern networks). This means only the master (client) can request data, and typically, the PLC or automation controller is the master (client) in the network. The master device can choose to broadcast messages or directly address devices on the network, and the slave devices can respond to directly addressed messages only. The slave devices can also perform actions based on the messages received from the master device. Each message will have an address, a function code, a data register, and a cyclic redundancy...
---
HMI Displays Article By Aldo Frentanszye1-20-23Human Machine Interfaces (HMI) are a key part of any manufacturing automation system. HMI displays provide information to operators, interact with users, and are often critical components in complex systems.HMI displays allow operators to control, monitor, and interact with control equipment, such as robots and machines. They can display vital system information in a form that is highly visible, accessible, and tailored to the system's users. They can be used to view errors, alarms, and operating system performance data and can even send signalls back to control equipment. HMI displays allow for quick information visualization,...
---
    When it comes to powering various types of electronic equipment, it's important to understand the difference between switching and linear power supplies. Both types of power supplies have their own particular benefits that make them suitable for different applications.   Switching power supplies are more efficient than linear power supplies, primarily because they use high-frequency switching to convert the AC power from the wall outlet into the DC power used by devices such as computers. The switching mechanism allows them to maintain output voltage at higher currents and higher frequencies than linear power supplies, resulting in much more...
---
  Programmable controls are quickly becoming commonplace in many small factory operations. Properly implemented, these devices can provide significant improvements in efficiency, safety, and production output. However, without a working knowledge of how to correctly use and program these devices, a factory may find itself in a myriad of operational and safety issues. Therefore, this article will provide a brief overview of how to properly implement and use programmable controls in a small factory environment to maximize their many benefits. The first step in properly utilizing programmable controls is to properly select the correct control for the desired application. Programmable...
---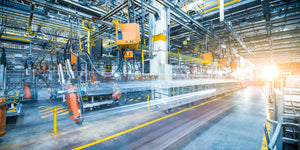 Just-in-time manufacturing, or JIT manufacturing, is a system for delivering production materials and components at the same time that they are needed on the production line. This method eliminates the need for large inventories and excessive storage, resulting in lower production costs and improved production efficiency. JIT is used in several industries, including automotive, electronics, and food manufacturing.  Despite its advantages, JIT manufacturing is not without its weaknesses. The first major concern is that it requires a continuous flow of parts and materials. For example, if components for a product must be delivered to the production floor the same day,...